Flipkart Marketplace is the leading platform for selling products online. By the end of this article, you will have all the information required to successfully sell your products with Flipkart.
Selling at Flipkart.com is easy and absolutely free. All you need is to register, list your catalog and start selling your items.
Things you'll need to get register
GSTIN/TIN Number
PAN card
Active Bank account
KYC documents (Address Proof and cancelled cheque)
Active phone number
Follow these simple steps to start selling on Flipkart
Step 1 : To a create a seller account, open seller.flipkart.com . Enter your phone number and type the sent OTP
Step 2 : Enter your email address and password.
Step 3 : Type your pickup address from where you'll send your product.
Step 4 : Add in TAX details like PAN no. and GSTIN and your Bank Account Details
Step 5 : Now add your Store Details and Store Description.
Now, you can start Listing your product.
Choose the product category to sell from existing options on Flipkart. However if you are unable to find an existing category for your product, you can also make a new list as well.
Step 6 : Click on 'Add a Single Lisiting' to add product lisiting. You can also choose 'Add a Bulk Listing" to add multiple items in a bulk.
Step 7 : Now select Vertical and then add your Brand Name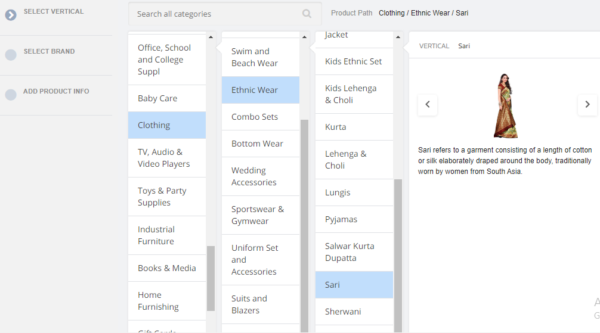 Step 8 : Next add your product information/description including price details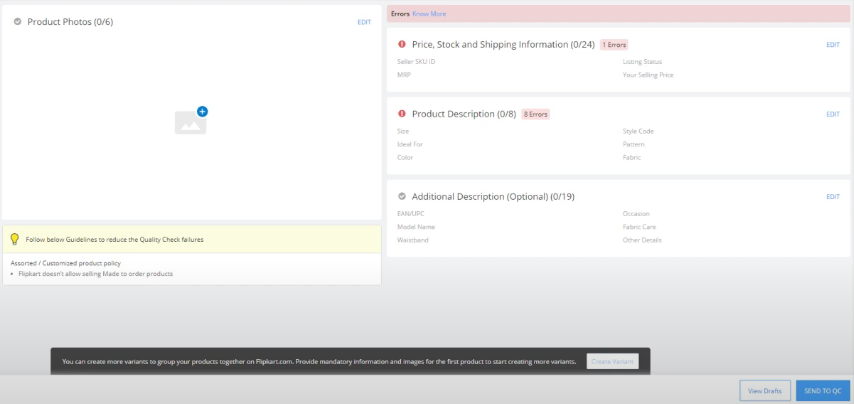 Finally, click on Send to QC to send your product for quality check.
A QC id would be issued on your dashboard to check your status on quality check.
Once done with quality check, your product list would be approved to sell on Flipkart
Congratulations! You're now a seller on Flipkart.
What is Listing your product on Flipkart?
Listing a product refers to filling out all the necessary information of your product. Adding images of your product so that a customer can make an informed buying decision.
Flipkart gives you a step-by-step process along with tutorials and help guides on how to list your product on their website. Basically, you'll be asked to give your product details such as size, model, color, etc. to make a good product description for better product listing to sell on Flipkart.
How to display your product?
Customers always choose to buy products that look the best and have the most accurate descriptions. Flipkart helps you attract customers with smart cataloging with its cataloging partners. They help in getting attractive images and clear description of your product.
On the whole catalog partners develop high-quality photographs of your products and crisp product descriptions for your product catalog.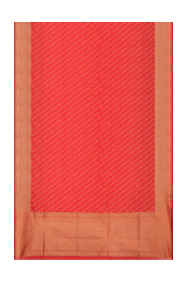 Therefore, a good catalog gives your customers a better understanding of your products and helps boost your sales. Similarly, TRI3D Online Cataloging Software is one such cataloging partner. They provide high quality 3D photorealistic images for cataloging your product. Be it a fabric or garment, the software stitches it onto a 3D model that efficiently saves your hassle and money over expensive model photoshoots.
Sign up for more such exciting updates about TRI3D!
How to write a good product description to sell your products on Flipkart?
A good product description is a replacement for the conversation with a salesman tht you aren't having. Try using short sentences in the descriptions to get the point across quickly. Target crisp clear and to-the-point language and not redundant words and sentences.
Mention the technical details like product specifications with descriptive words and helpful information. It generally includes
product type
color
size
weight
care, etc.
Add some thoughtful keywords that can make you reach far better than your competition.
Understanding what a usual customer will search for and placing the exact same keywords in your product description will help your product get fetched much easier and faster than the rest.
How to decide price to sell on Flipkart?
You can decide your own price keeping in mind following additional fee Flipkart charges on your every successful sale,
Settlement Account (Amount you get)  = Order Item Value – Marketplace Fee – GST On Marketplace Fee (18% of Marketplace Fee)
Marketplace Fee = Commission Fee + Shipping Fee + Collection Fee + Fixed Fee
Account for the applicable Marketplace Fee and accordingly include a suitable margin to arrive at the Selling Price. Furthermore, for ease of calculation, you can use Flipkart's Commission Calculator widget on the dashboard.
You can head on to this link for more detailed pricing information.
How to sell on Flipkart without GST?
No, you can't sell products without GST on Flipkart. You can sell online without GST only if you sell products which are exempted. You need to have GSTIN even if your turnover is less than Rs. 20 lakh there is no such threshold as stated on some other websites. So, it is mandatory to have GSTIN to sell on Flipkart.
How to sell unbranded products on Flipkart?
Yes, you can sell unbranded products on Flipkart only if you are the manufacturer of the product or have a valid invoice. But you cannot sell first copy products. Your account could get suspended if you do so.
Although, you need to put following details on the product packaging :
MRP (Minimum Retail Price)
SKU (Stock Keeping Unit)
Product color or any other identifiable details like size, quantity, etc.
Helpline Number or Contact Information
One drawback of selling unbranded products is that any other seller can hijack your listing. They can make changes to your listing which will affect your sales. So, it is advisable to have a trademark on your product.
How to deliver your product with Flipkart?
Whenever a customer places an order, Flipkart sends you an email alert. Subsequently, inform Flipkart through the seller portal to alert their logistics partner to pick up the product from you and deliver it to the customer. Pack the order and keep it ready for dispatch within the time frame provided by you. 
However if you don't have packaging material, Flipkart can connect with packaging material providers. They can get you good quality packaging material which impresses the customers and ensures that your products remain undamaged.
If you don't want to pack either or don't have space to store, Flipkart Fulfilment service(FFS) in fact offers you to store your products in their fulfilment centers where they take utmost care of your inventory. FFS also ensures faster delivery and quality checks by their experts along with delightful packaging all at a very low cost.
Benefits of selling at Flipkart
– In case of lost/damaged goods and fraudulent customer claims, Flipkart has set up a Seller Protection Fund (SPF) to protect their sellers against fraud.
– Flipkart Growth Capital provides you access to capital at competitive rates with zero collateral and also quick turnaround time.
– Additionally, training webinars are also being conducted with subject experts from various domains. Resolve your doubts and get tips & tricks to improve your business.
Furthermore, for any information regarding selling products you can head on to Flipkart Seller Learning Center