Meesho has over 50 lakh products in different categories like clothes, cosmetics, and household items. Some of the popular product categories are women's ethnic wear, men's top wear, western wear, accessories, and home essentials. Selling with Meesho gives you the opportunity to start your own online shop without any investment sitting back at home. Unlike other ecommerce platforms, Meesho also takes zero commission in selling your products on Meesho. In this article, we will tell you everything you need to know about starting to sell on Meesho.
Things you'll need to get register
– GSTIN Number
– Active Bank Account
Follow these simple steps to start selling on Meesho
Step 1 : First of all, you need to create a seller account on Meesho. You can create a seller account to sell on Meesho.
Step 2 : Enter your email address and password.
Step 3 : Enter your GST details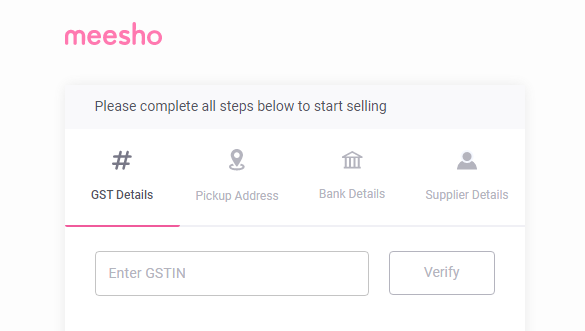 Step 4 : Give your pickup address
Step 5 : Enter your active bank account details
Step 6 : Type in the supplier details
Great! You can now access your Meesho Supplier Panel. Here, you can add your product catalogs, manage the inventory, and process orders. You can also check your deposited balance and payment status on your Meesho Supplier Panel.
How to list product catalogs?
After successful registration, you would have access to Supplier Panel. Here you need to upload well organised quality catalogs of the products you wish to sell. 
Uploading product catalogs is the most important part of selling your products on Meesho. A good product catalog includes quality images of your product with a good product description to help resellers sell your products on Meesho. 
For example, if you are planning to sell sarees on Meesho, your saree catalog should beautifully display every major element of your saree in the most presentable manner. In addition to this, if you have the same saree in multiple colors you can upload multiple images of this saree in different colors. You can create a well designed product catalog to make you sell the quality of your product.
How to get good quality images for a good product catalog?
To get a good response from the reseller community on Meesho, the images you upload to display your product on Meesho should be of great quality to gather attention from the consumer. The images you display should cover every selling element of your product to gain maximum profitability.
TRI3D's digital draping and apparel visual technology is a one solution to display quality images of your product. Software uses 3D technology to create beautiful photorealistic 3D images of your product draped onto a model. You can drape a saree onto a model with TRI3D Saree Draping Software. The benefit you get from TRI3D over traditional product photoshoot is the time, cost and effort that goes into the hassle of getting images of your product on an actual model.
With TRI3D you cut 90% of the cost over traditional photoshoot and get quality photorealistic images in 2 minutes with just a few clicks!
Pricing and Commission rates on Meesho
Settlement Amount = Product Price – Commission Fee ( depends on product category, 0% for most them) – GST – TCS
Here, the settlement amount is the amount you get on the 15th day of order delivery. Product Price is the price you decide to share with Meesho, GST is the tax you pay on every sale. Meesho charges 18% GST on commission fee. And at last, TCS is the 1% of the total taxable value. Meesho does not charge any fixed fee, collection fee or hidden fees unlike other ecommerce services. To know more about how to set good pricing on Meesho, go to how to increase profits on meesho.
Can you also sell products on Meesho without GST?
As per government regulations, all sellers operating on an e-commerce platform are mandated to have a Goods and Services Taxpayer Identification number (GSTIN). So, as per regulations, you will need a GSTIN to become a supplier on Meesho. ClearTax is one partner of Meesho that can help you in getting a GSTIN for your new business.
Although if you are a reseller, then you do not need a GST number. You can start your business from your home for free. You just need to promote the stuff you want to sell with your reseller network.
Subscribe to know more such exciting news and updates on selling your products online!
How to deliver your product on Meesho?
When you receive orders for your products, Meesho sends you a notification via email as well as on the Meesho Supplier Panel. Meesho takes care of the delivery of your product with Meesho's own logistics partners at zero cost. Meesho has tied up with multiple logistics partners who pick the products from your location and deliver it straight to the customer.
After receiving an order of your listed product, go to Meesho Supplier Panel and do following steps:
– Accept the order and download the label
– Pack the product and paste the label on the packaging
– Hand over the product to Meesho's logistics partners
Benefits of selling on Meesho
– Suppliers selling on Meesho keep 100% of their profit by not paying any commission back to Meesho.
– Unlike other big marketplaces, Meesho also doesn't cut any shipping fees from your settlement account.
– Easy product listing, lowest cost shipping charges and safe and timely payment channel makes Meesho one of the best ecommerce platforms to sell your products with their reselling network and crore+ consumers that get to buy your products on Meesho.
– To grow your business, you can know about tools available for the same, read more on grow your business on meesho.
– Be it small scale sellers or large brands, Meesho is the best platform for small entrepreneurs planning to start selling business without actual investment.