Top 5 Ways To Sell Sarees Online
Confused about which e-commerce platform to choose? Here's a quick overlook of top 5 ways to sell your sarees online. By implementing the wise strategy of selling sarees in various channels entrepreneurs have managed to not only increase their incomes, but also build a wide and solid network of customers. 
Here is a list of the most popular online channels you should consider for selling sarees online.
1. Big Ecommerce Platforms like Amazon, Flipkart, Myntra, etc
Fun fact: All the major e-commerce platforms like Amazon, Flipkart, Myntra, Ajio, etc together contribute to upto more than 50% of sales.  It is also estimated that customers spend anything between Rs.5000 to Rs 10,000 on apparel ecommerce purchases in a year. 
On most of these big e-commerce websites, you can take the help of their inventory management system and logistic partnership for delivery and order fulfillment . These e-commerce websites have easy-to-use and secure guidelines. These websites also provide training and helping manuals on how you could increase your profit with their services. For providing all these services and a customer base, these platforms typically charge 30-40% commission on every sale.
Some similar online marketplaces to start your seller journey include :
Amazon, Flipkart, Snapdeal, Myntra, Paytm, LimeRoad, ShopClues, etc.
2. Niche Oriented Marketplaces like Gocoop
These marketplaces offer specific niches to target specific interests of their customers. For example, Gocoop is one of the best-known marketplaces for handlooms. They connect artisans, weaver co-operatives and clusters directly with consumers across the world.
Another such marketplace is Craftsvilla, an e-commerce portal that sells ethnic apparel, footwear, fashion accessories, beauty products, handcrafted home accessories and other ethnic fashion and lifestyle products.
The benefit of such market places would be a more focussed group of audience going through the products compared to a more generic audience on the bigger e-commerce platforms.
Similar online marketplaces include :
Zibbet, Craftsy, CraftisArt.com, Bonanza, RebelMarket, Storenvy 
Worried about how to go about model photoshoots? You actually don't need any expensive photoshoots of sarees to sell sarees online.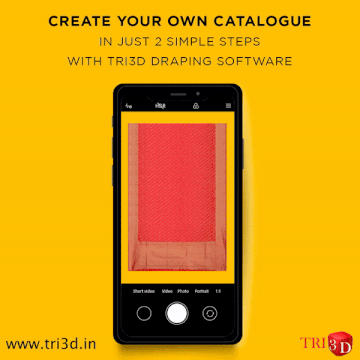 You can convert sarees to model pictures right at home! Take help of cataloging softwares like that of TRI3D to visualize your fabric/garment onto a 3D model without getting into expensive model photoshoots to display your saree.
3. Social Commerce like Meesho
A reseller is someone who purchases products from a wholesaler or a manufacturer and sells them directly to his/her customers after adding a margin to the price. Resellers reach out to customers via social media such as WhatsApp, Facebook, Instagram, and other social media platforms. 
Most of these resellers are housewives and students, who generally have a strong social network in their community. So their skill lies in understanding the taste of their customers in their network & whatsapp groups. 
Moreover with no inventory model (also popularly known as dropship model), Meesho also takes care of the delivery from Manufacturer to customer directly. Add margin on top of manufacturer price and sell your sarees with profits within  your network of customers.
Similar Social Commerce platforms include :
GlowRoad, Shop101, Milmila, SimSim
4. Sell Sarees Online with your own Website
You can set up your own ecommerce website to reach out customers online. For example you can take help of platforms like Woocommerce, Shopify, Magenta , Wix, etc. in building your own ecommerce store. The biggest advantage you get with them is the profit margin, since you don't have to share any commissions with the website or the platform. You might need to hire a third party developer, who can set up your website in a few days compared to weeks of development time when you hire someone for a full-time role.Another big advantage of having an own website is that it will give a stronger brand value and connect with customers.  
On your own website, you can upload your products in your own way. You can set your own set of guidelines and company policy. Furthermore with few considerations like good quality images, good description and easy-to-buy process you can increase your sales with a successful ecommerce website. In fact check out Tri3D for easy creation of saree product images.
5. Sell Sarees with Social Media Websites
The most popular social networks include Facebook, Whatsapp, Instagram, Pinterest, and Twitter. They can all be used for the purpose of selling goods.
Facebook has an option to set up a Facebook Store, which can integrate with your ecommerce site to sell directly through your business's Facebook page. This is a great way to improve your sales if you run Facebook ads as part of your marketing strategy.
Facebook also offers a feature called Facebook Marketplace, which is more like a classified listings site with localized listings.
Also setup different payment methods to increase customer experience and enjoy the social network of these websites to increase sales of your business. Similar Social media platforms that you can sell on include :
Instagram, Pinterest, Snapchat, Twitter, Whatsapp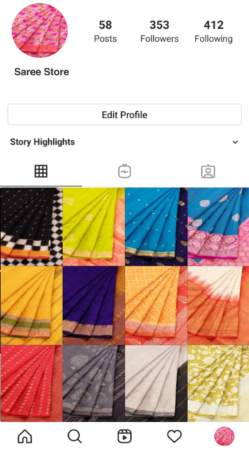 In Conclusion, retailers have modified their sales through multichannel selling by offering multiple touch points for customers to interact with their brand. Furthermore these product marketplaces are designed to make the process easy for the sellers and buyers. With minimal technical knowledge required and built-in marketing to cater a large database of existing customers.