Sell Sarees Online On Amazon.in
If you want to sell sarees on Amazon.in, you have reached the right place! By the end of this article, you will have all the information required to successfully sell your sarees on Amazon
Things you'll need to get started
GST Number with registered company name in your GST
PAN Details
Active Mobile Number
Active Bank Account
Email ID
Follow these simple steps to sell sarees on Amazon.in
Step 1 : Go to amazon.in/sell
Step 2 : Click On 'Start Selling'
Step 3 : Now Sign-In to Amazon Seller Central with existing Amazon.in account credentials or you can also make a new account
Step 4 : Type in the legal company name registered in your GST
Step 5 : Next provide your Store details to sell sarees on Amazon.in
Store Name
Product Name
Business address
Step 6 : Enter your TAX details including GST number and PAN details
Step 7 : Select the 'Products to sell' option from the dashboard then click 'Start Listing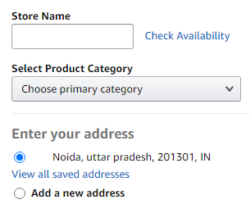 Step 8 : Next enter your 'Product Name or Barcode Number' to search for it on the existing catalog of amazon.in
Step 9 : However if you can't find your product in the existing catalog, you can choose 'I'm adding a product not sold on Amazon' to create a new listing
Step 10 : Enter your product information
Seller SKU (not mandatory)
Saree price
Quantity
MRP (Maximum Retail Price)
Confused about how to set price for your saree?
Go to Price Blog section below.
Step 11 : Click on 'Save' to save your saree in your inventory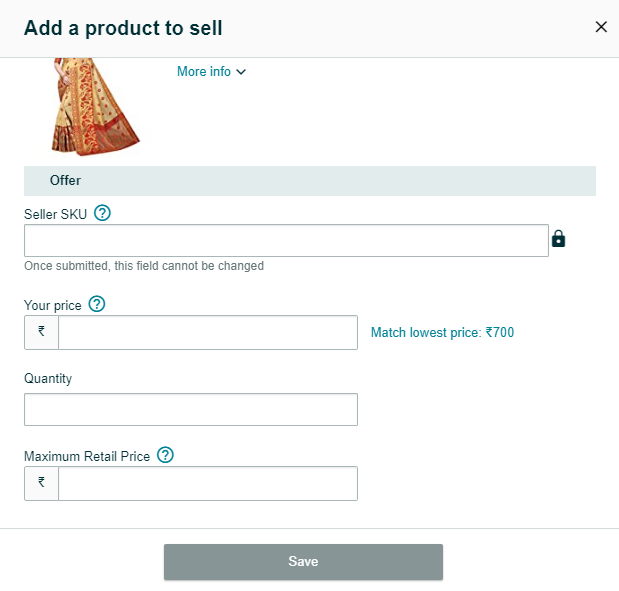 Step 12 : Now add remaining details on dashboard
Shipping Fee Details
Bank Account Details
Tax Details (if not done earlier)
Default Product Tax Code
Digital Signature
Step 13 : Finally click on 'Launch Your Business'
Congratulations! You're now a seller on Amazon.in
What is Amazon Seller Central ?
Once you register as an Amazon seller, you'll have access to your Seller Central dashboard. Think of Seller Central as your go-to resource for selling on Amazon. In fact, this is where you manage your entire business. So from adding your first product to finding tools to grow a successful brand, you'll find everything in here to run your business.
How to Optimize Your Product Page on Amazon.in?
While creating your product page, think about what customers come looking for. This will help you in putting down the relevant information for customers accordingly.
Saree Image Specifications mainly includes that the images should be colored with all the features clearly visible. Additionally, height & width should be 1000 pixels or larger to enable zooming. And at last, the preferred image format should be JPEG.
Need help with the product images?
Are there any cataloging softwares in the market that can help you get ready-to-use images to display? Well yes. 
TRI3D Saree Draping Software is one such cataloging software that can help you get photorealistic 3D images draped onto a model.
Give a 2D image of fabric/garment and the software will produce ready-to-use 3D image of your garment onto a model allowing you to save any hassle on an expensive model photoshoot.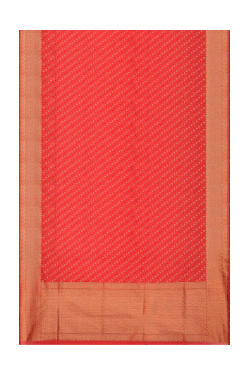 Sign up for more such exciting updates about TRI3D!
How to write a good description for your saree to sell on Amazon.in?
Customers compare different products before making a purchase. So check out other saree sellers what goes in their description.
Customers specifically look at the product image, video, and specifications to decide if it suits their needs.
Care Instructions, Fit Type, Fabric, Color, Length of the saree and blouse, Product content are indeed some of the most common descriptions every saree seller uses in their product description.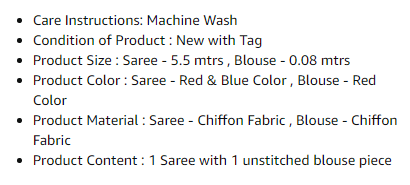 Hence providing complete & accurate product details helps customers buy your products easily.
How to make your saree more visible on Amazon.in?
Furthermore, you can make products more visible by keeping in mind these points:
-Using relevant keywords for better SEO – Include keywords in your product title that people type in while searching to get on their top search list. In fact amazon's search engine and also outside search engines interpret the keywords you place in your listing. They determine whether your product is a relevant search result. On the whole the trick is to include keywords in your listing that your key buyers are frequently searching.
– Advertising – Activate Sponsored Product ads to make your product appear at multiple places. In fact these self-service and cost-per-click ads for individual product listings appear in shopping results and also on product detail pages.
– Additionally use paid marketing within Amazon
– Also keep refreshing content regularly (descriptions and stuff)
– Always stay in touch with your customers and get reviews.
How to price your saree on Amazon.in?
You can set your own price keeping in mind the following fee amazon.in charges for every sale depending on your shipping and inventory options.
Selling On Amazon Fee = Referral Fee + Closing Fee + Shipping Fee + FBA Specific Fee
– Referral Fee: Fee charged as a percentage of sales made by selling any product. For instance for sarees, it is 13.5% for item price <=500, 17% for item price > 500 and <= 1000, 19% for item price > 1000.
– Closing Fee: Fee charged in addition to Referral Fee, based on your product price.
– Shipping Fee: Incurred for delivering your order through any channel.
– FBA(Fulfilment By Amazon) Specific Fee: FBA fee to pick, pack & store your orders. Also with FBA, you have a reduced closing fee and reduced shipping fee.
How to deliver sarees on amazon.in ?
Fulfilling your orders includes storing inventory, packaging products, shipping, and delivering orders. To sell sarees, Amazon.in has 3 different order fulfilling options that includes,
– Self Ship
– Easy Ship
– Fulfilment By Amazon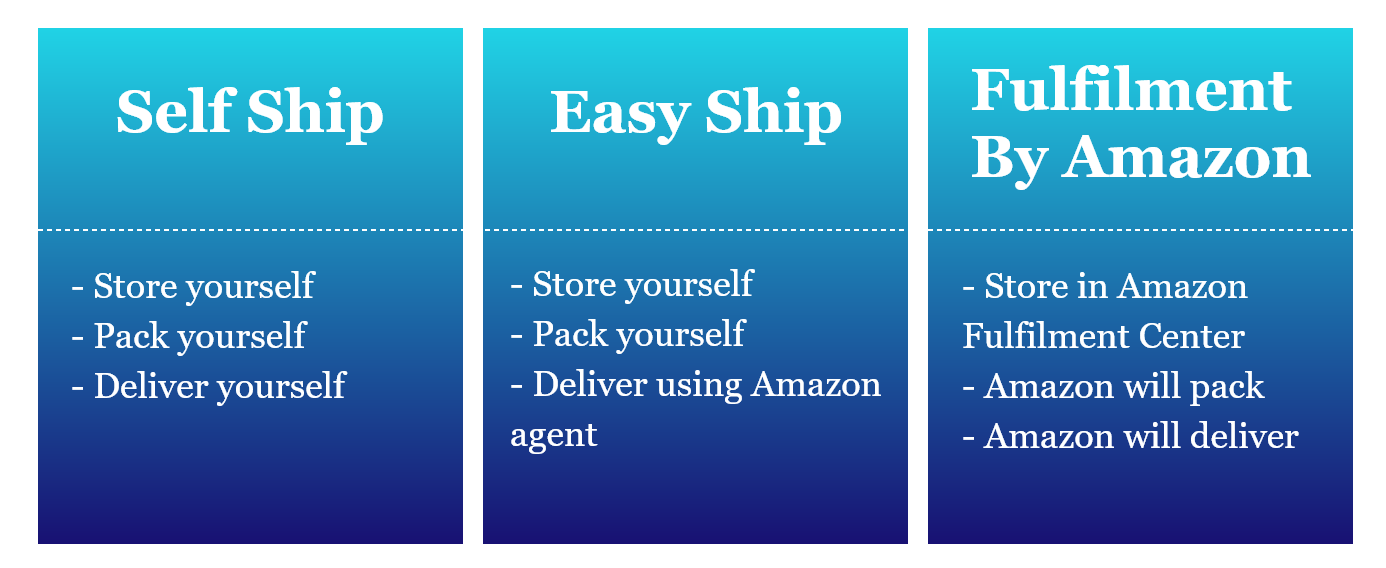 Subsequently once you start making sales, you need to monitor your business to observe its performance. Implement strategies to improve and grow into a successful brand. Therefore, improve on your customer feedbacks. Use advertising tools to improve your brand presence. Furthermore you can check tools and techniques to grow your saree business here.