With the digital revolution in India, the e-commerce sector blasted to its record high performance in the country. Amazon and Flipkart are the two big names currently dominating the Indian e-commerce industry. Here, in this article, we will tell you everything you need to know about which one is better to sell your products online.
Which one is better : Amazon or Flipkart?
– Registration : Amazon India's seller registration process and one that of Flipkart is almost quite similar to each other. So, in terms of the registration process both the companies are equal in comparison. Both have a easy-to-register process to welcome new sellers to sell their products on their platform. 
– Seller Dashboard & Product Listing : When it comes to comparing seller dashboard and product listing procedure of the two companies, there are lesser selling tools available on Flipkart compared to Amazon.
– Commission Fee : Flipkart has a more complex commission fee structure as compared to Amazon that has a simpler and uniform commission fee structure. Both platforms have a pricing structure that is broadly split into commission, shipping, service/collection, and fixed charges. While commission charges are lower for Flipkart, it has a higher collection charges of 2% of order value as opposed to Amazon.
– Advertising : Its better to advertise on Amazon Advertising in comparison to Flipkart Advertising. On Flipkart, a seller is unable to set unique bids on keywords for their products. But on Amazon, you can. On Flipkart, there is no opportunity to promote goods via the use of creative materials such as banners, brand store or other type of sponsored ads features. On Amazon, you can. 
But Flipkart has its own service of advertising. It has its own SmartROI campaign that helps sellers set their expected ROI from advertising campaigns. It lets Flipkart optimize their campaign to achieve the expected ROI through new age AI technology. 
Although SmartROI campaign is not available on Amazon India but, there are a variety of additional options available on the Amazon India advertising platform such as, Sponsored Product Ads, Sponsored Display Ads, Stores, Video Ads and many more advertising tools to analyze and ensure that your products get the most amount of exposure and sales.
Interested in Selling on Flipkart? Checkout our blog on:
Sign up for more such exciting updates about TRI3D!
Flipkart vs Amazon : Market Share
In 2020, Flipkart had 32% market share in India's ecommerce economy making it the largest online retailer in India. Amazon India was slightly behind with 31.2% market share. Both Flipkart and Amazon are the mega giants in the Indian Ecommerce industry and both share quite a large market share and contribute the most to make the industry value above 50,000 Cr INR in the year 2020.
Flipkart saw above 50% increase in new users right after the initial lockdowns last year. In 2020, India's online festive sale for a month reached 8.3 billion USD in gross sales that is 61,000 Cr. INR. This year these online sales saw 23 percent growth on year-to-year sales in 2021 with Flipkart leading the game with 62 percent market share among other major ecommerce platforms. Festive sales this year were quite a hit since early years, keeping in mind the increase in customer demand and large discounts with lucrative deals for both buyers and sellers that Flipkart and Amazon offered in their festive sales. GMV (Gross Merchandise Value) saw a significant increase for both Amazon and Flipkart, especially Flipkart that increase its annualized GMV to 50 percent making it more than 23 billion USD that is 171,000 Cr. INR.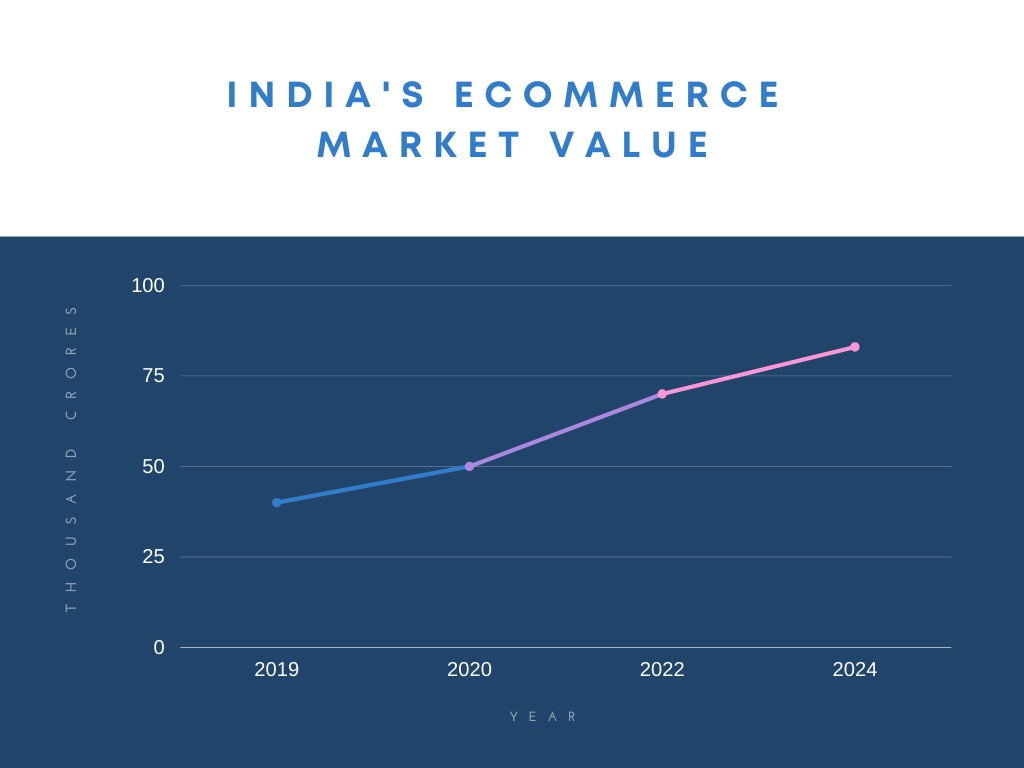 With quite a heavy increase in online market space, India's e-commerce market doubled between 2017 and 2020, with Flipkart and Amazon majorly dominating the space single handedly. In 2020 alone, the country's online commerce market reached Rs. 50,000 Crore mark, and it's expected to reach Rs. 83,000 Crore by 2024. For more latest information and updates about investments and market opportunities for E-commerce industry in India, you can check out this gov website for Indian Ecommerce Industry.
Amazon vs Flipkart: Delivery Speed & Customer Support
Amazon India has the best positive customer sentiment among all online marketplaces, with its premium delivery service, Amazon Prime. Also in terms of better customer support services, Amazon has more customer satisfaction than Flipkart.
Amazon India's average delivery time is quicker per order as compared to Flipkart. Their average delivery time is within 3 days where Flipkart's average delivery time is of 4-5 days. Both Amazon and Flipkart are maximizing their regional fulfillment centers to speed up their delivery processes. 
Selling on Flipkart and Amazon are like two faces of the same coin. Difference comes onto their customer experience and seller support channels to ease the overall process of selling. While Registration is quick and almost similar to both of the platforms, Amazon's seller dashboard has been applauded for better seller support tools and features compared to Flipkart.
Although selling on both marketplaces is free, Flipkart has a little more complex commission structure as compared to Amazon. There are relatively more variant advertising features on Amazon compared to Flipkart,which has its smartROI advertising feature that helps sellers to achieve their expected ROI.
So if you are looking to choose one, we recommend starting with Amazon purely because of better customer satisfaction, and then later of course you can move to Flipkart to expand, once you are doing well on Amazon.